The past two days have been a whirlwind, but it was such a fantastic time! Friday night Kathleen met me at my house, and we headed down to the Waterfront Marriott for FitBloggin' 2010. As a little background, the FitBloggin' Conference is for anyone who blogs about fitness, wellness, good food and a healthy lifestyle – regardless of where they are in their journey. Obviously, this blog is wedding-related right now, but I have been addicted to healthy living blogs for a few years now. While my blog isn't totally focused on food, I think it will be a bit more healthy-living targeted once the wedding is over as this is where my true passion resides.

Last night, we checked in, got our swag (oh my god, the swag), and went up to the room. We were upgraded to a harbor view, and all I can say is I have never seen Baltimore look so beautiful. I am so glad we decided to stay over night, even though I live 25 minutes away. I was completely blown away by the free New Balance shoes and shorts, and we also got to keep our gruve pedometers (which we initially thought we had to give back after the conference.) Needless to say, we were both in swag heaven. Check out the goodies below (totally took this picture after I got home, hence our bedspread).


Yes, you can see some awesome New Balance socks (you never realized how important good socks are until you run try good ones and your feet don't blister), a food scale by
Eat Smart
, the cutest little bowl and spoon by
Green Lite Bites
, a super comfy and organic blend FitBloggin' t-shirt that is made by
thriv
, a
10-minute solutions DVD
by Jessica Smith, an awesome water bottle ( I hoard good ones) from
LA boxing
, POM juice, a Weight Watchers
pedometer
with points tracker, a new balance and 10-minute solutions USB (can never have enough of those), an adorable POM recycled bag, mints from
yoga tune-up
as well as a coupon for free massage balls, a few samples from
pure 2 raw
, a sample of
Click
espresso protein drink, a
Skinny Cow
towel and magnet, and some coupons which included a free bottle of tide sport detergent. WHEW!
We even hurried up and tried on our shorts and shoes as soon as we got in the room. I am not a huge running shorts fan as they tend to ride up and fit weird on me, but these were
awesome
. I am definitely taking them with me on the honeymoon, along with the shoes, which are the 740's. They are perfect for running (I even wore them on the 5k - more on that below), and I am a VERY harsh critic when it comes to running shoes. My feet are fragile, and I never skimp on running shoes, and these totally won be over. My arches didn't scream at me once.
After the swag fest, we headed down to the
POM Wonderful
cocktail reception, and it was great to finally put some faces to the names. The health blogger community seems to be such a great group of supportive, strong women, and it's very inspiring to all be in the same room. Because the pom-tini line took so long the first time around, Kath and I headed out for sushi for and called it an early night. We had to get up early for the 5k, and we both knew our grandma bodies couldn't handle otherwise. Of course, we made sure to cap our night off with a glass of red wine...in bed, right next to our water bottles. So typical.
Saturday morning, after a lot of tossing and turning (I think I was worried that I wouldn't wake up, and I had a nasty cold brewing), we awoke at 6am and got all dressed for our early run. We ran around the Inner Harbor, and it was the most perfect morning! Kathleen had to pace me because I severely lack in the running department, but she stuck with me, and I did it. :)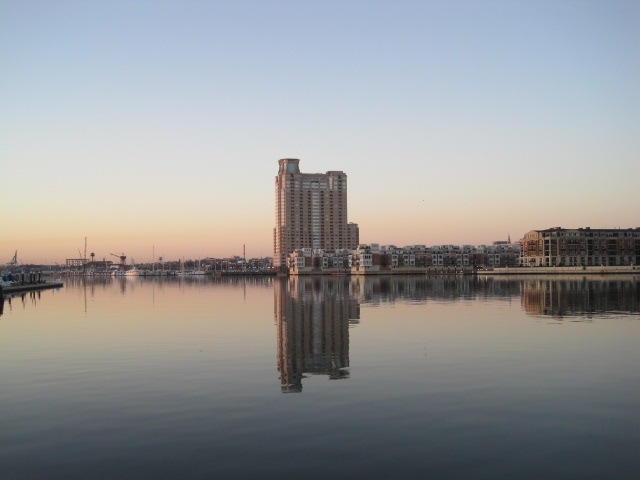 After showering, we packed our bags and headed down to breakfast for oatmeal and fixins'. The agenda for the day went like this:
Overall, it was an information-packed day, and I can honestly say that I learned a
so much
.
Ronni
sure outdid herself in planning this conference. So much of what I learned could be applied personally and professionally, and I am so excited to continue down this blogging path. One of my favorite presenters was Jim Doran, and I didn't realize until he started speaking that he is a Hopkins employee as well. He was so down to earth, but incredibly smart. He definitely has me thinking about making the switch to Wordpress. I actually wanted to start this blog on Wordless, but the fiance create it, and I didn't want him to have to do more work. :)
With all that said, I think my body has now decided that I need to rest because a mean, ugly cold has taken over me. While I usually push on through these stupid colds, I am honoring my body and letting it relax because I have a BIG BACHELORETTE WEEKEND coming up in Florida. That's right, another jam-packed awesome weekend ahead. I can't wait!
Cheers!